***DISCLAIMER***
(it's so pathetic that I have to do this; I HATE people that can't take responsibility for their own actions!)
This is ONLY documentation for my own project car. Should anyone decide to copy, emulate, or in any other way reproduce my ideas and/or methods, I bear NO RESPONSIBILITY for your actions. This is not a snap-tite model. There are no (quality) pre-fab kits out there that make it an easy 1-2-3 to do this conversion. This is custom work, and as such, is every bit as much art as it is science. Please ALWAYS think through what you're going to do before taking action, and PLEASE, Safety First!
Day 9 - Final alignments (fenders), starting to prep for paint, Final weights
So today I finished up the alignment of the fenders as best I could, and I plan to drive around as-is for a few weeks, as parts tend to "settle" after they've been on for several miles. Pix below are after the "break-in". Note there are now proper spacers up front to compensate for the wider fenders, and the rear still needs a roll/pull for the FN01R-Cs, also the sidemarkers are on! YAY! :)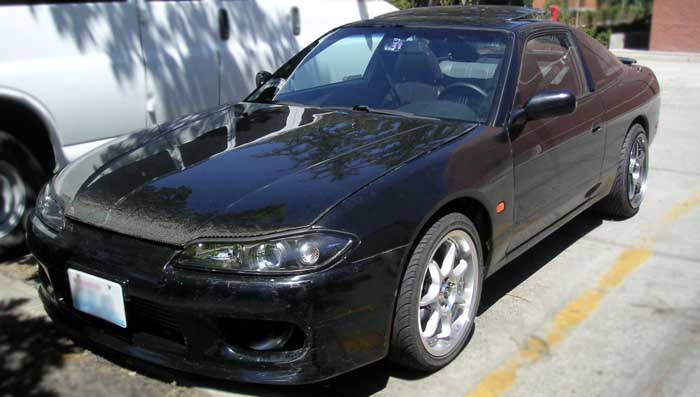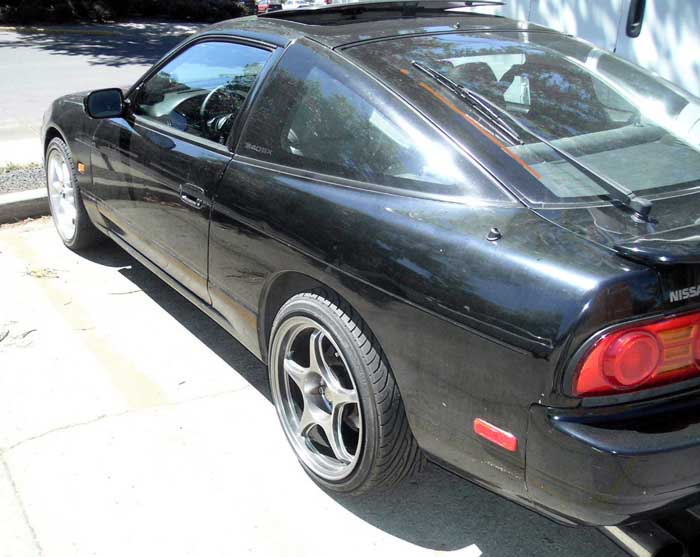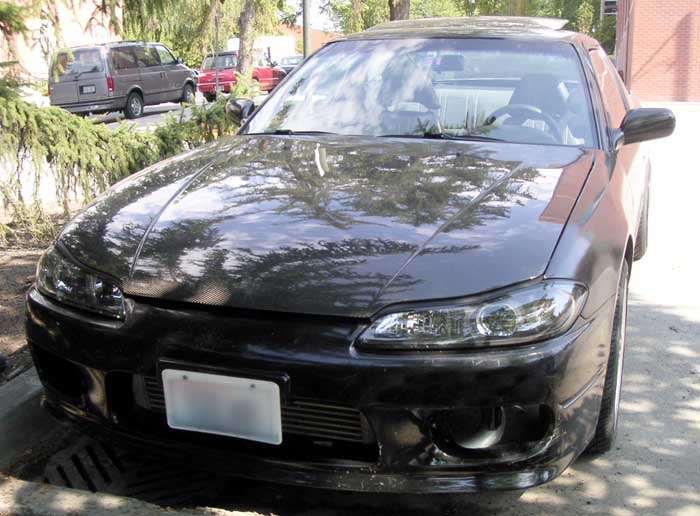 Also, here are the final tallies for the New vs. Old part weights:
Old
New
S13 Headlights w/covers (2)
16.8 lbs
S15 Headlights (2)
12 lbs
S13 OEM Bumper w/foam
20.6 lbs
S15 OEM Bumper (urethane only)
9.6 lbs
S13 OEM Fenders w/front trim & sidemarkers (2)
28.4 lbs
Inner Circle S13-S15 Fenders (2)
8 lbs
S13 OEM Radiator Support Brackets (2)
2.6 lbs
JDM PS13 Headlight Brackets (2)
.5 lb
S13 OEM Hood
40 lbs
VIS S15 oem-style Carbon Fiber Hood
24 lbs
S13 OEM Hood Hinges (2)
2 lbs
S15 Hood Hinges (2)
2.8 lbs
Random Hardware
2.2 lbs
Random Hardware
.1 lb
Total Weight
112.6 lbs
Total Weight
57 lbs

Total Weight Reduction: 55.6 lbs!
Pick a Day... (click Home for descriptions)